Real Estate Through The Eyes Of COVID-19
With North American stock markets down more than 30% from their recent highs, many of us feel devastated with the current value of our portfolio. The speed and severity of the decline in global stocks, oil prices and the scaling back of operations have caused a great level of uncertainty, forcing many of us to reconsider our investment strategies. Should we load up on undervalued stocks? Should we hold off on the purchase or sale of a home? The reality is COVID-19 has impacted all of our lives and to a certain degree derailed our plans. For many, 2020 was supposed to be a very promising year. Health, economic prosperity, and personal finances continue to be items of high concern, however, the Real estate market is still active and adapting.
As industry professionals, it is our duty to shed light on the challenges and opportunities buyers and sellers are currently facing in light of COVID-19. We have applied a SWOT analysis (commonly used in business decisions) to help buyers navigate the next few weeks so they can continue on their real estate path with confidence.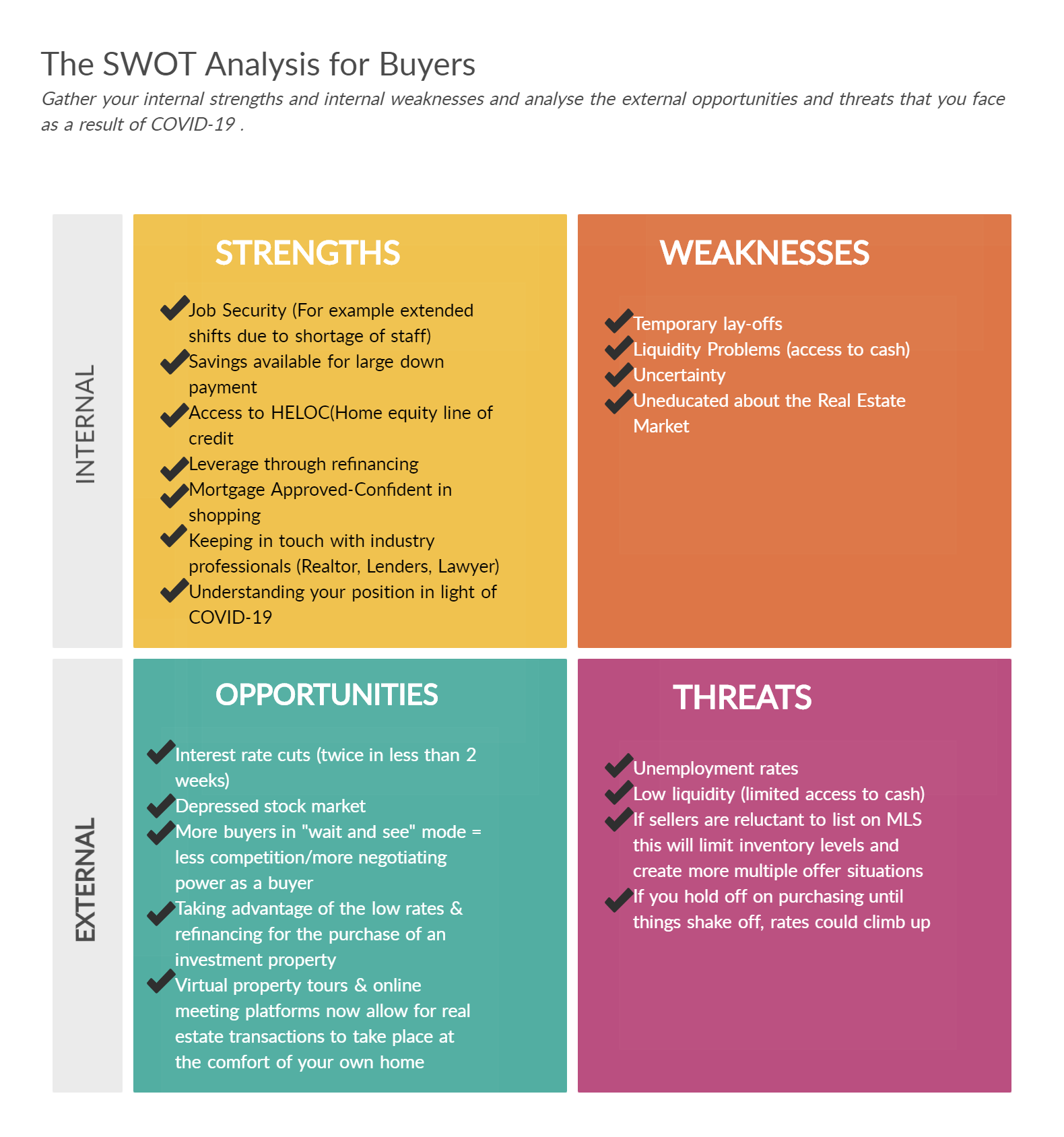 The Sellers Side
By no means are sellers immune to the external threats affecting buyers. However, in the wake of this pandemic, there are still many opportunities that present themselves to both buyers and sellers. We've put together some common questions sellers should ask themselves when deciding whether or not to list their homes in midst of these unprecedented times.
Do I feel comfortable with people coming into my home given the uncertainty in public health and the spread of the virus?

With restrictions on open houses and showings, how will my home get the proper exposure on the market?

Is selling my home today a good hedging strategy against a future decline in property values?

What rights do I have as a seller in case the buyer cannot close on the sale of my home?

If I sell today, will I sell at top dollar compared to homes sold prior to the pandemic?
---
The truth is real estate can be resilient with the advancement of technology. Real estate professionals have been quick to adapt and engage in new real estate practices to get ahead of the market. Virtual showings and open houses are now the new normal, allowing social distancing while providing sellers and buyers with enough market exposure. Virtual consultations allow for face-to-face interaction through Zoom, Skype, and FaceTime. Electronic signing provides a convenient solution for the signing of documents, all in the comfort of your home. Adapting to these changes is critical for the market's reemergence in a position of strength.
Although we are beginning to see some lenders implement more stringent lending practices on new loans and mortgages in wake of the economic uncertainty, individuals who have been pre-approved, refinanced, or have access to a HELOC (Home Equity Line of Credit) are still in a good position to buy. Despite concerns in consumer confidence, people always need a place to live. While some believe it's prudent to sell now in case future property values depreciate, others believe its best to buy now before prices increase.

Canada is a safe haven and one of the best places to live in the world, which is precisely the reason why people will continue to migrate here. Our population will continue to grow, and the real estate market will not only sustain but will strengthen even more in the coming months and years.
COVID-19 has affected us all to various degrees. Whether you take a "wait and see" approach or choose to buy or sell now, there are many things to consider. Rather than simply speculating on how prices and sales will respond to COVID-19, understanding our strengths and weaknesses by asking the right questions can help determine whether you are in a position to buy or sell.
If you would like to jump on a quick call and chat more about the market or your position, we'd love to chat online through Zoom, FaceTime or by phone.